Innovation Programs you can Lead Yourself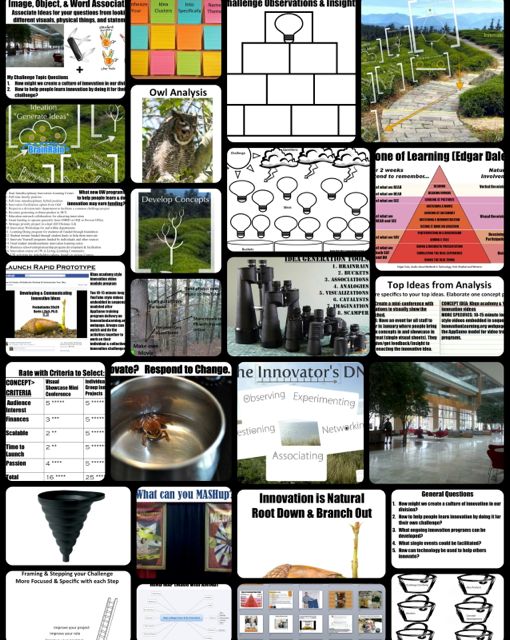 You can design your own innovation program and lead groups and individuals through the idea development process. We have online innovation workshops and activities you can facilitate with groups or just have them go at their own pace. Help others to systematically tackle a challenge relevant to you or your organization. Below, you will find sample examples of the step-by-step process, as well as a selection of the innovation skills we focus on learning and developing in individuals and groups. At the bottom of the page, you will find contact information and an opportunity to sign up for a full free module from the program you can begin using with your group or organization.

Innovation Program
Why this innovation leadership development program?
Experience – I've been developing leadership programs for 10+ years, helping organizations learn and practice innovation. I am also the author of "Root Down & Branch Out: Best Practices For Leadership Development Programs."
Action – Take action to produce tangible leadership results by taking on an actual innovation challenge within your group. Systematically develop ideas you need.
Flexibility – Program Innovation is designed to suit your needs. Since it is online video workshop based, students or staff can participate when and where they want and you can build live events and coaching into the program.
Proven Success – Career-focused individuals will learn the same innovation processes I've taught and facilitated at Dartmouth, UW-Madison and for Fortune 500 organizations.
Value – Generate and develop new ideas that can save money and resources through this value-focused program. See a return on investment via new programs, products, marketing and skills.
The Step-By-Step Process
The video below exemplifies the method, system, and stages – with corresponding activities – that you'll use in Program Innovation. Module 1 teaches the innovation process so that participants can successfully develop new ideas and work on a challenge important to them. We identify areas for innovation, learn the process and system, and discuss how to best innovate within your organization. Throughout the duration of the program, I show you a real project I'm working on (helping an institution learn and do innovation), results for each activity every step of the way, and the ideas I'm developing that you can use too.


Innovation Skills
Research shows that innovation skills are among the most sought-after competencies in employees. These skills related to creativity, communication, and problem solving are most needed by society. As a result of participating in this collaborative program with others, we help you zero in on cultivating those skills.
Included Innovation Workshops
Workshop 1: The Innovation Process
Workshop 2: Innovation Skills
Workshop 3: Your Innovation Challenge
Workshop 4: Innovation Questions for Idea Capture
Workshop 5: Structured Ideation
Workshop 6: Innovative Idea Generation
Workshop 7: Idea Analysis & Synthesis
Workshop 8: Concept Development
Workshop 9: Test and Select
Workshop 10: Communicate and Advance

---
Sign up here for complimentary access to the first module of the Innovation Program, additional resources and video clip of a live event in action.
Contact [email protected] for more information about customizing and structuring your own program. We can share ideas for delivery options and live events to deepen the effect in helping people learn and do innovation for their challenge. If you are looking for innovation programs, we are worth a quick email.